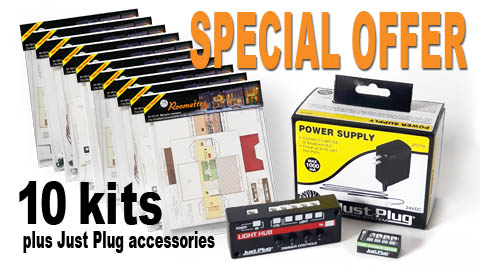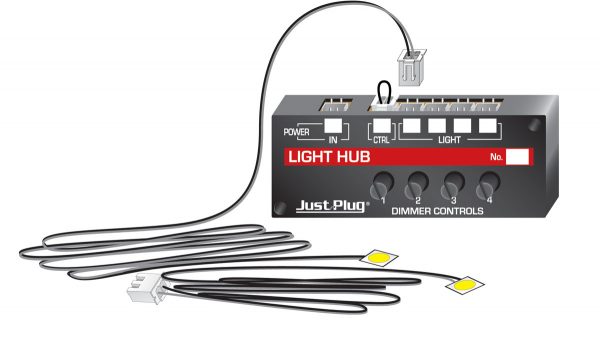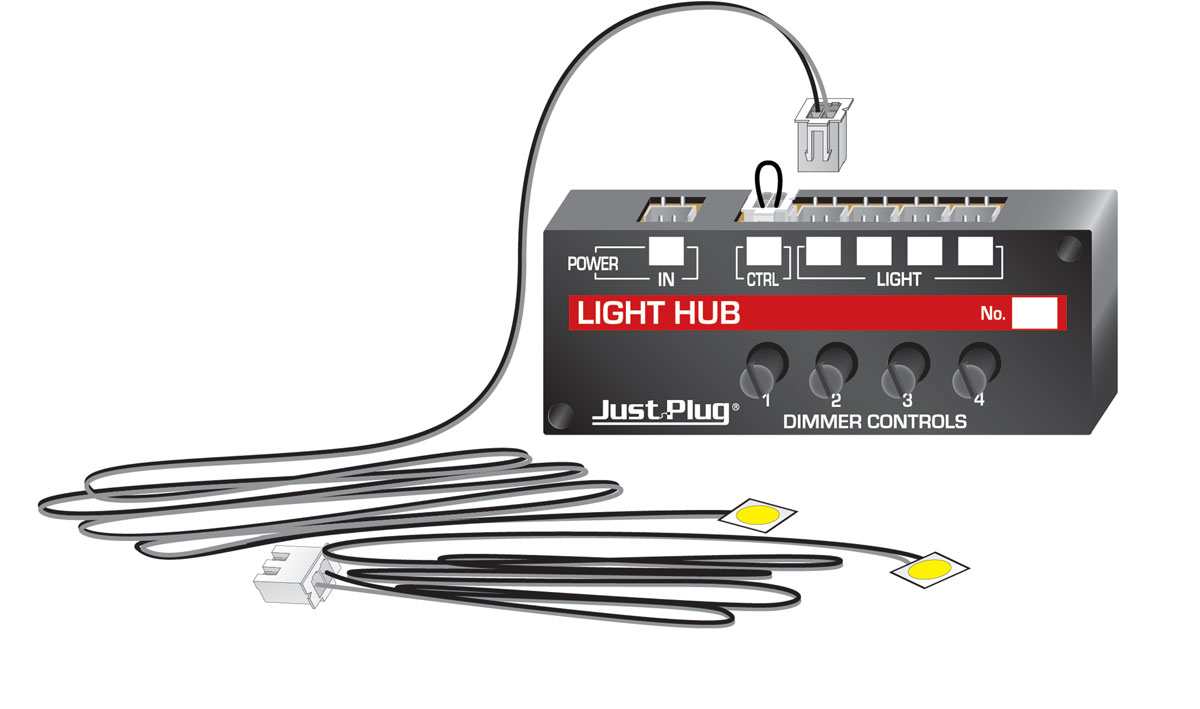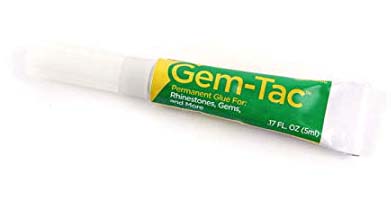 Roomettes 10-pack with Just Plug Accessories
Here's a fast and easy way to get started with lighting for your DPM buildings.  Buy 10 of our popular Roomettes kits and we'll throw in over $50 in FREE Just Plug Accessories.   Great value, for a limited time only.
10 Roomettes kits with LEDs (see description below for full list)
Woodland Scenics Just-Plug 5701 – Light Hub
Woodland Scenics Just-Plug 5770 – Power Supply
Woodland Scenics Just-Plug 5681 – Port-Sharing Device
Gem-Tac – .17 ounce glue
Out of stock
Description
Rooms are laser-cut printed cardstock for a precision fit. No measuring or complex cutting is required.  Just separate them from the card, fold and glue. Attach the LEDs provided and glue the rooms into your buildings. Then sit back and enjoy your light show.
Recommended tools and supplies: X-ACTO knife, Gem-Tac glue, adhesive tape, and Popsicle stick or other burnishing tool.
Package includes:
• 01-101-01    Mongillo Jewellers, fits Woodland Scenics/DPM 10100 – Kelly's Saloon/Big Deal Pawn/US Post Office
• 01-102-01    The Paint Pros, fits Woodland Scenics 10200 – Robert's Dry Goods
• 01-103-01    Signal Brewery, fits Woodland Scenics/DPM 10300 – Cutting's Scissors
• 01-107-01    Ohio Shipping, fits Woodland Scenics/DPM 10700 – Freight Depot/Railway Express Agency
• 01-109-01    Banfield Street #1, fits Woodland Scenics/DPM 10900 – Townhouse #1/Main St. Apartments/Valley Apartments
• 01-111-01     Banfield Street #3, fits Woodland Scenics/DPM 11100 – Townhouse #3/Grand House/River Pass Apartments
• 01-112-01    Atlas Taxi, fits Woodland Scenics 11200 – City Cab Co. / Rhodes
 Wholesale Tire / Dryden #2
• 01-116-01    Ashby Auto Parts, fits Woodland Scenics/DPM 11600 – Carr's Parts/Don's Hardware
• 01-118-01    The Bookworm, fits Woodland Scenics/DPM 11800 – 1st National Bank
• 01-119-01    Arlington Hotel, fits Woodland Scenics/DPM 11900 – M.T. Arms Hotel