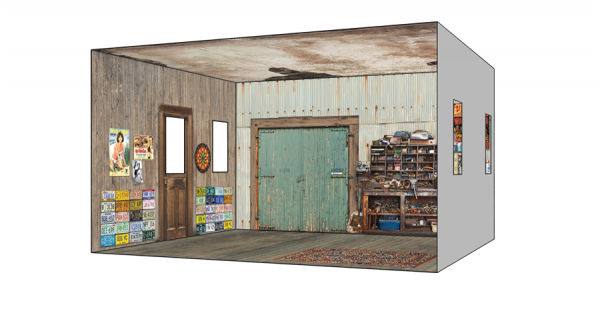 Eastown Cycle
$10.95 USD
Fits Woodland Scenics 20100 – Schultz's Garage / Woody's 
Custom Cabinets / Dyden #1
2 laser-cut rooms
2 warm white LEDs with plugs
Exterior sign
This interior is also available in a Project Package that includes the DPM structure kit, Just Plug lighting components and glue.
Description
Rooms are laser-cut printed cardstock for a precision fit. No measuring or complex cutting is required.  Just separate them from the card, fold and glue. Attach the LEDs provided and glue the rooms into your buildings. Then sit back and enjoy your light show.
Recommended tools and supplies: X-ACTO knife, Gem-Tac glue, adhesive tape, and Popsicle stick or other burnishing tool.